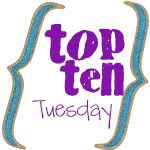 Due to some of the link-ups I've been posting on, I have a number of new readers on my blog these days. In hopes of helping some of you get to know me better (at least until I get my "about me" page completed) here's a few tidbits! Enjoy!
Top Ten Tuesday-- 10 random things about me
I believe in Christ and him crucified.
I met my husband when I was 15...and it was practically love at first sight. We've been together ever since.
I'm a proud Army wife. My husband serves our country, and I do too. I'm a sucker for any and everything patriotic. I often get teary eyed when I see the flag raised or hear our National Anthem sung, especially by these girls. Are you teary after watching that too? Wow!
I have 3 little kids (and three sons at that!) and hope to have a bunch more (no word out on how many "a bunch" is yet, but we'll see...)
I love spinach.
I'm insanely good at word games...and so are my kids as seen here.
I'm very competitive... and so is my husband. We do really well when we're on the

same team

and consequently, not so well when we're on opposite teams. Haha. But to date, no one's ever slept alone on the couch. And, Lord willing, never will.
I'm a shy social butterfly. If that makes any sense. I love meeting new people, being hospitable, and organizing events, but I hate being the center of attention or receiving (too much) credit.
I love getting snail mail
My favorite quote right now is from Martin Luther:
"Learn Christ and Him crucified. Learn to pray to Him and, despairing of yourself, say: Thou Lord Jesus, are my righteousness, but I am thy sin. Thou hast taken upon thyself what is mine and hast given to me what is thine. Thou hast taken upon thyself what thou wast not and hast given to me what I was not."
And that's the list today! Enjoy your own Top Ten with
Oh Amanda