As is frequently the case, my husband and I are working out some big (to us) issues in our home. It seems that no matter how many decisions we make, there are still more looming in the distance.
Who said life was easy, right? Actually, I don't know that anyone said it was easy, but
Mama did say there'd be days like these
. (go ahead and listen while you read!)
So here's the scoop for Top Ten Tuesday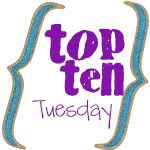 Ten decisions we're in the middle of making
How many kids should we have? Now that I fit back into my skinny jeans and we've settled not only into our new home, but also into having 3 children, the question has been on our minds: when should have the next one? (yes, I know that my youngest is not quite six months old!!) And when should we stop? What is "the" number? What is "the" reason? If you've been down this road recently, I'd be interested to hear your godly feedback.
Where and Whether we should take vacation over the holidays--now that we live on the East Coast we have relatives that are much closer in proximity than our immediate families. So... do we visit our aunts and uncles? Or fly cross country to see grandma and grandpa?
Could we, should we, take a vacation without the kids?
Whether to buy new family room furniture now or wait till the boys are passed the "spilling/climbing/pulling on everything" phase? Okay, so this is really just an issue on my mind. My husband thinks the ratty, dirty, white chairs that we have in the family room are "just fine." :)
Whether to home school our kids or not.
What to cook for our dinner party on Friday. Oh, the possibilities!!
Should I go back to work part time as a nurse? I'm so happy to be a stay at home mom right now, yet I admit that part of me yearns to be back in the hospital running a Code Blue and titrating drips. Am I crazy? When the other kids were born, I had always gone back (one day a week) to work by now so it feels strange to not have begun that transition.
Whether or not to put our kids in sports at young ages. The Little Kicker club looks so perfect for the boys... but then if we start the sports obsession at ages 2 and 4, will that be a good thing?
Whether to discipline our 2 year old for "I didn't even try to make it to the potty in time" accidents.
Did Mama really say there'd be days like these?
The list could go on. But inspite of all the decisions on our plates, there is still much to be thankful for.
For one, the BIGgest questions in life have already been answered because I
know
what my only comfort
in life and in death is
and who I
will
join myself to in marriage.
And for two, it is such a comfort that God is sovereign and in control of all things!